Happy Chinese New Year – the Year of the Rabbit has arrived! I always look forward to joining in on the festivities in NYC's Chinatown at least a few times over the 15-day celebration by shooting off confetti bombs, catching lucky parachutes and hunting down colorful dancing dragons. And also by eating, of course, at the myriad of restaurants I adore in Chinatown.  The night before, I ring in the New Year by baking these flavor-packed Sichuan Spice Cookies, as I did last night after a meal of Grand Sichuan take-out.  Really, though, they're good anytime and not just at New Year's.
Now, I'm going to warn you: These cookies aren't for sissies – they're spicy, to be sure, with an after-kick that'll peck at the back of your throat for a bit before wrestling with the tip of your tongue, leaving your whole mouth feeling tingly and maybe even a bit numb if I've done my job properly putting this recipe together.  If you like Sichuan or spicy fare in general, you'll probably love these.  They're a perfect way to finish a big meal of double-cooked pork, dan dan noodles, mapo tofu and Chong Qing chicken.  They're also great on their own with a big glass of milk.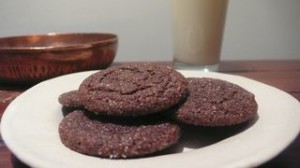 Sichuan Spice Cookies
Yield: about 36 cookies
Ingredients:
1-1/2 cups all-purpose flour
2 teaspoons Sichuan powder
1/4 teaspoon ground cayenne pepper
1 teaspoon ground ginger
1 teaspoon ground cinnamon
1/2 teaspoon ground cloves
1/4 teaspoon grated nutmeg
2 tablespoons unsweetened cocoa powder
1 teaspoon baking soda
2 teaspoons boiling water
1 stick unsalted butter, softened
1/2 cup packed dark brown sugar
1/2 cup robust unsulfured molasses
1 tablespoon + 2 teaspoons peeled and finely grated (use a microplane) fresh ginger
1/3 cup granulated sugar
Directions:
1. In a medium bowl, sift together flour, cayenne, Sichuan powder, ground ginger, cinnamon, cloves, nutmeg and cocoa powder and set aside.  In a small glass, combine the baking soda and boiling water and set that aside as well.
2. In the bowl of an electric mixer fitted with the paddle attachment, beat the butter and brown sugar on medium speed until combined and light in color, about 3 – 4 minutes. Add the baking soda mixture, molasses and freshly grated ginger, beating until combined, another minute or so.
3. Pour the dry ingredients into the mixing bowl and turn the mixer on low speed until they are just incorporated with the wet ingredients, about 1 minute. Use a spatula to work the remaining bits of dry ingredients into the cookie dough by hand, being careful not to overwork the dough. Scoop the dough out onto plastic wrap and pat down into a 1-inch disk.  Wrap it well and put in the freezer for 30 minutes.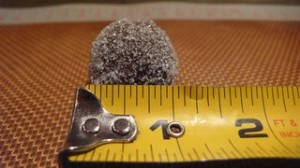 4. Line two baking sheets with parchment paper or cover with silicon baking mats and preheat oven to 325°F.  Remove the dough from the freezer and portion out into 1-inch balls that you roll between your hands.  If you have a kitchen scale, the balls should weigh about 15 grams each.  The dough is wet and sticky regardless of how cold you manage to get it in your freezer – if you find yourself in a sticky situation with cookie dough all over your hands, rinse your hands in water and keep on rolling balls of dough until you're done. At this point, it doesn't matter about cookie spacing, so you can set them on one baking sheet that fits in your freezer.  Put the balls of dough back into the freezer until firm, another 30 minutes or so. You can actually freeze the balls at this point and keep them in freezer bags for up to a month, baking as needed. Remove the chilled dough and roll in granulated sugar.  Set the sugared balls 2 inches apart on the prepared baking sheets. Keep the remaining balls in the freezer until you're ready to bake more.  Bake the cookies for 12 minutes, rotating the pans halfway through. The cookies will look a bit puffy when you remove them, but will flatten out and have a nice crackly texture after resting. Let them sit on the baking sheets for a few minutes before transferring them to a cooling rack until they are at room temperature. These cookies are best the same day they're baked, but you can store them in an airtight container at room temperature for up to 3 days.